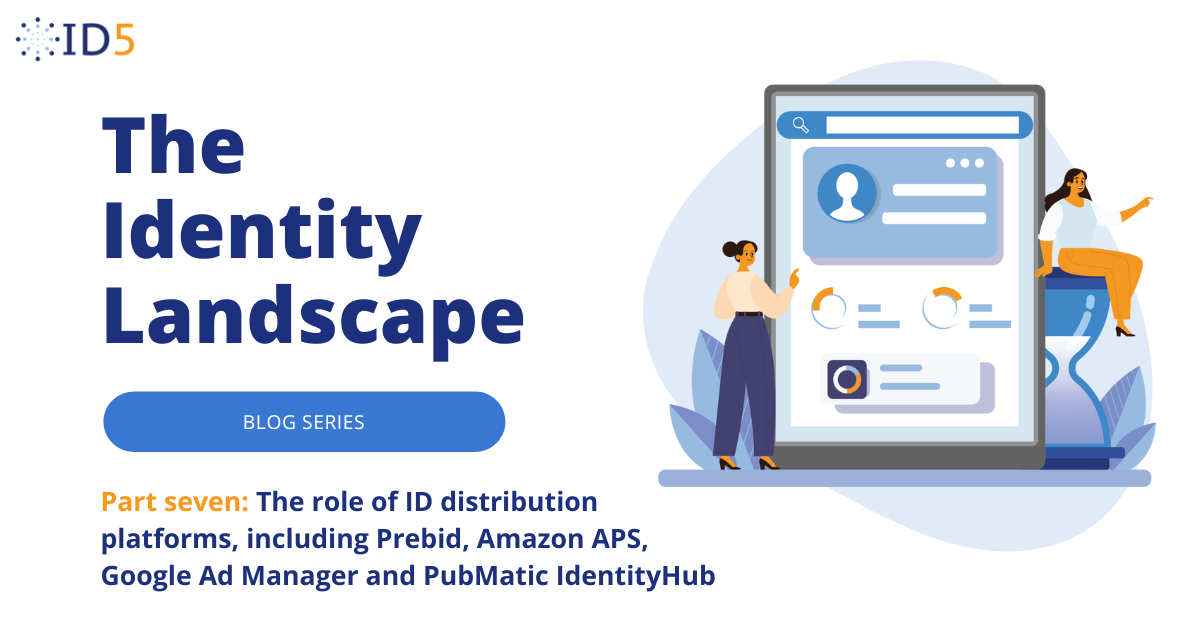 The role of ID distribution platforms explained
Posted by Alex Taylor
On Aug 22, 2022
What are ID distribution platforms?
ID distribution platforms are technologies that facilitate the implementation and management of alternative identity solutions as part of their offering. These platforms are incredibly valuable for publishers in a world where 35% of browser share is already cookieless and therefore unaddressable because they streamline ID management and enable the sharing of alternative signals, such as first-party IDs, with authorized buyers. Thus, making the switch away from traditional identifiers significantly easier.
There are different types of ID distribution platforms, and they exist to serve a number of different purposes alongside the sharing of identifiers. Other roles include simplifying the bidding process, increasing demand competition, and ad inventory management.
The different ID distribution platforms around today and how they help publishers
Let's take a look at some of the main platforms that you need to know about, as well as what they are doing to help publishers. These include Prebid, Google Ad Manager (GAM), Amazon Publisher Services (APS), and PubMatic's IdentityHub.
Prebid
Prebid was launched in 2015 to simplify header bidding for publishers. Prebid created an open tech layer where companies could add their code to a standard yet optimized foundation, thus making it easier to execute header bidding on websites and mobile apps. Today, Prebid offers a suite of products, including its web-based header bidding platform, Prebid.js, and its server-side header bidding platform, Prebid Server.
In summary, Prebid provides:
Simplified header bidding for publishers and increased demand competition
Google Ad Manager (GAM)
Google Ad Manager (GAM) is an ad management platform for large publishers where they can manage and monetize their ad inventory. GAM has enabled a feature called Publisher Provided Identifier (PPID) which allows the sharing of a publisher-assigned user identifier between the publisher and GAM for the purposes of digital advertising. GAM also works in tandem with Google Encrypted Signals (ESP) to distribute first-party IDs with buyers.
In summary, GAM provides:
Management of ad inventory for publishers
Amazon Publisher Services (APS)
Amazon Publisher Services (APS) is a cloud-based suite of services that enable publishers to monetize and grow their businesses. The suite includes APS' invite-only header bidding solutions: Unified Ad Marketplace (UAM) and Transparent Ad Marketplace (TAM).
In summary, APS provides:
Simplified header bidding for publishers and increased demand competition
PubMatic's IdentityHub
PubMatic's IdentityHub is an ID-agnostic identity management solution for publishers, and an extension of Prebid's User ID module. IdentityHub leverages a specialized technology infrastructure to simplify the complex alternative identifier market. Publishers can implement and manage multiple alternative IDs through an easy-to-use, self-serve UI.
In summary, IdentityHub provides:
Implementation and management of multiple identity solutions
Clearly, different ID distribution platforms have a number of different benefits including the simplifying of the bidding process, increasing demand competition, and managing identity solutions. These platforms continue to improve programmatic advertising in a world where traditional signals, such as third-party cookies and MAIDs, are continuing to disappear.
What is next for ID distribution platforms and who should you work with?
The use of these platforms and technologies is on the rise, and there is no sign of that halting any time soon. There is clear value for publishers in working with platforms that have a number of benefits in making their lives a little bit easier. This value is further strengthened by these platforms' commitment to helping publishers not only today but also tomorrow with the facilitation of alternative ID management and distribution. Publishers have a guarantee that these platforms will act as a key supporting factor in their transition to the new era of digital advertising.
ID distribution platforms have a vital role to play in the identity landscape both today and in the future. Because each platform has a unique role to play, it is essential to analyze your business goals in determining which of these platforms you should consider partnering with. Once secured – the right platform can help you to future-proof your identity strategy and increase monetization, even in the absence of traditional identifiers.