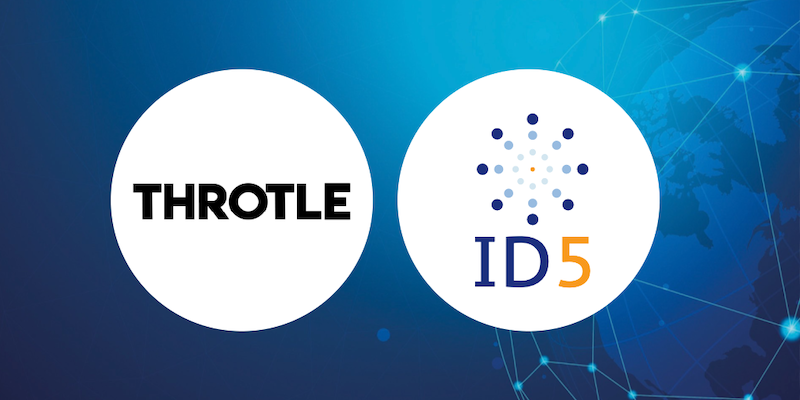 Throtle and ID5 Partner to Fuel Cookieless Identity Capabilities
Posted by Valbona Gjini
On Sep 07, 2020
Red Bank, NJ — August 31 2020: Throtle, a leader in identity resolution, data onboarding, and emerging cookieless identities has partnered with ID5, the independent identity solution for digital advertising, to allow brands and publishers to identify consumers without using third-party cookies across channels and devices.
The advertising industry is redefining industry practices in 2020 and beyond. This includes Google's announcement that it will phase out third-party cookies in its Chrome browser within two years. The partnership between Throtle and ID5 enables web publishers to obtain a privacy-compliant, persistent 1:1 individual-based identity across browsers and devices without relying on a third-party cookie. Throtle will resolve brands' CRM data to the ID5 cookieless ID and distribute this ID to the partners in the ID5 partner network.
"We welcome Throtle to the global network of ID5 partners", said Mathieu Roche, CEO of ID5. "This partnership will provide accurate onboarding and identity solutions for premium publishers that have or will have access to ID5 in the US as they transition to cookie-less advertising. It will also help demand and supply-side platforms recognize more customers and prospects on the web and adjust their logics to amplify the performance of digital advertising campaigns."
"We're excited to partner with ID5 and to leverage their IDs to provide identity resolution at scale for publishers and brands," said Paul Chachko, CEO of Throtle. "Our goal is to provide the recognition and understanding of all persons across all channels and devices, on a cookieless basis, so publishers and brands can continue to thrive in a privacy-first future."
About ID5
ID5 is the shared identity infrastructure designed to improve user recognition in a privacy-compliant way. ID5's solutions improve match rates between platforms and allow user identification in browsers where 3rd party cookies are blocked. ID5 enables publishers to better monetize their audiences and allows ad tech platforms to operate more efficiently and maximize the value of data and inventory.
Created in 2017 by seasoned ad tech professionals, ID5 services clients globally from offices in London and Paris. For more information about ID5 and its solutions, please visit: https://www.id5.io
About Throtle
Throtle provides brands and marketers with the most accurate 1:1 view of a customer. Throtle is focused on resolving to a deterministic individual for accurate targeting across all devices and channels including IDs, MAIDs, IP addresses, connected TVs, cookieless identities, and more. For more information, visit https://throtle.io