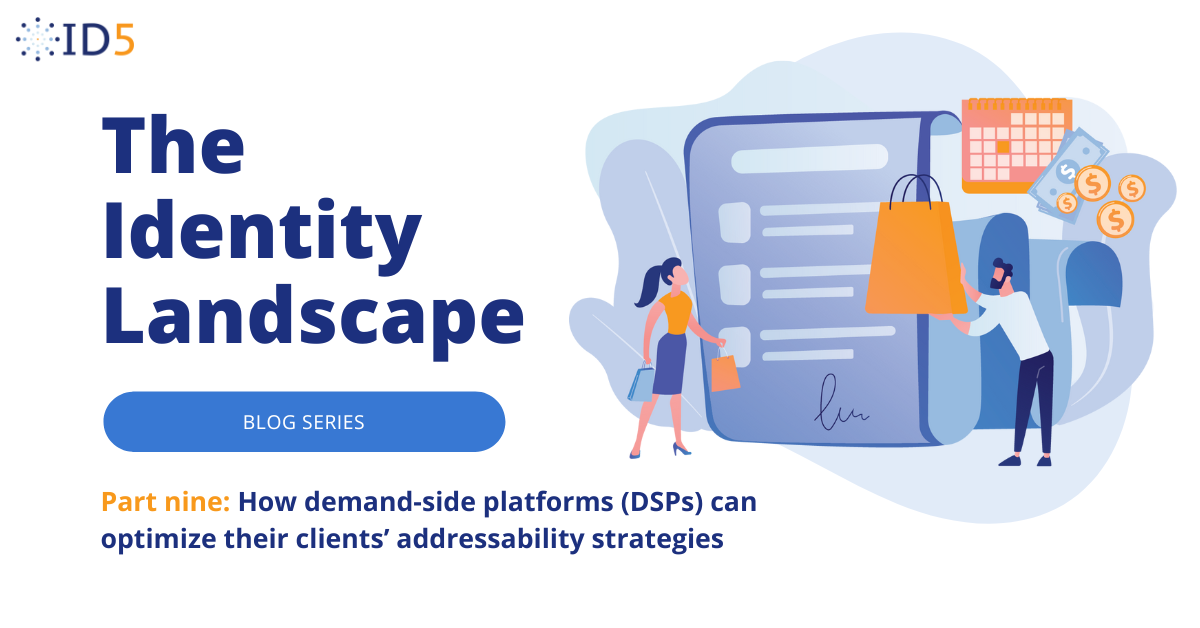 How demand-side platforms (DSPs) can optimize their clients' addressability strategies
Posted by Alex Taylor
On Apr 05, 2023
The industry is experiencing a significant shift that is tackling both publishers' and advertisers' ability to address audiences in a privacy-friendly way. Over the past few years, we have seen a variety of solutions, methodologies, and approaches emerging to solve the addressability and data protection challenge. Often, brands and publishers are faced with choice overload and are looking towards their technology partners for guidance on creating a resilient addressability strategy.  For demand-side platforms, helping advertisers solve the addressability challenge comes with more than one benefit. Besides ensuring their clients are ready to operate seamlessly once cookies are blocked in Chrome, there is an ROI incentive and additional benefits that can be gained today.
Advertisers want to reach cookieless audiences now
The majority of advertising budgets are currently being invested in cookie-based environments. The result is that CPMs and bid density are very high in Chrome. This wouldn't be a big issue if those costs were justified by the ability to reach a large portion of web audiences. However, low match rates between platforms combined with the number of users that refuse cookies mean that Chrome is not as addressable as we may think. Overlooked cookieless browsers, on the other hand, offer better ROI since CPMs and bid density are much lower.
Advertisers are becoming more aware of the opportunities that these browsers offer. ID5's State of Digital Identity 2022 report found that 69% of advertiser respondents want to be able to reach cookieless audiences today, and 87% believe that they are missing out on the opportunity of doing so. The more tech-savvy brands are already expecting their demand-side platforms to be integrated with cookieless ID solutions. It's only a matter of time before all advertisers start demanding the same. To stay ahead of the curve, DSPs need to be prepared to manage more and more cookieless campaigns for a variety of use cases.
Stand out against the competition
The DSP market is very competitive. It's crucial to ensure they continue to provide a competitive offering so as not to be left behind. The ability to target, retarget, activate data, and measure campaign results in cookieless browsers can be a significant competitive advantage for a demand-side platform. The more use cases a platform can support, the more attractive it can become to buyers. This is why integrating with the most adopted ID solutions needs to be a top priority. Migrating from their own ID to a new universal ID and way of operating requires time and resources, and this shouldn't be underestimated. However, moving fast, testing for multiple use cases, and releasing success stories can be a great way to attract more advertisers and more budgets.
Tips for Success
With the variety of ID solutions available and the integration work required, it is crucial for demand-side platforms to effectively prioritize and lay the groundwork that will enable them to move at a fast and steady pace in their cookieless migration journey. Below are some best practices to take into consideration.
Support as many use cases as possible – as previously covered, it is essential that you are able to support a variety of use cases that matter to your clients. Be sure to start simple, such as with audience targeting or retargeting.
Expectation management – Managing clients' expectations as they familiarize themselves with new – cookieless – ways of operating. As the technology expert, it is down to you as the DSP to guide your clients in the right direction and ensure that realistic expectations are set out and agreed upon. Make sure that goals and KPIs are aligned right from the beginning as you start to run campaigns with ID solution providers.
The importance of education – in an industry that is constantly changing, and with more and more identity solutions cropping up in the market, education could not be more important. Take the time to educate your teams and your partners on the current state of the identity landscape, how different solutions operate, and which can better support your and your client's business.
Prioritizing ID integration – today there are many ID solutions available. Prioritization is crucial. There are several factors to examine when choosing the ID solution to prioritize.

Scale: how adopted is the solution? The effectiveness of an ID correlates directly with its rate of adoption. Despite there being many universal ID solutions available today, only a handful of them have achieved enough scale on the publisher side to bring any sort of value to advertisers. You can use tools such as Sincera.io to analyze the adoption rate of different IDs.
Data protection standards: privacy regulations are becoming more stringent. When evaluating solutions, it is crucial that your ID partners have implemented technologies and mechanisms to ensure that users' data is only collected and shared with permission and that their preferences are respected throughout the advertising value chain. You can refer to reports such as Neutronian's Data Privacy Rankings list to verify the data protection practices of different solutions.
GEO availability: if you have a regional approach or focus, check if the ID solution under evaluation is available and has scale in the markets where your business and clients operate
Client requirements: some clients may have a universal ID of choice. It's important to communicate with your clients throughout the decision making process to ensure that you remain aligned.
Working with cookieless ID solutions has become a requirement for demand-side platforms. Collaborating with the right partner can support your business in multiple ways, including increasing ROI and remaining competitive. Make it a priority for your organization.